Believe it or not, you don't actually need to be in full safari gear when traveling in Africa. If you want to dress from head to toe in khaki, that's fine, but you will be needlessly uncomfortable. On this page, we will let you know what you really need to bring along with you.
How much storage space will you have on the bikes?
Everyone on the trip will be given saddlebags that provide 35 liters of storage space: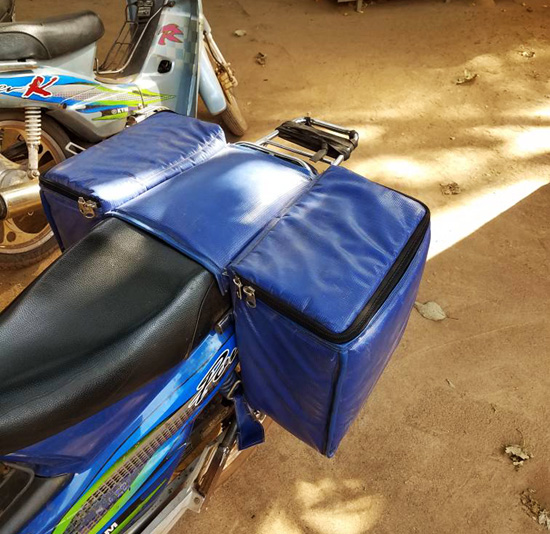 Beyond that, feel free to wear a light backpack while we are riding for a bit of extra storage.
Clothing
It's going to be cool in the mornings and quite warm in the afternoons. Average day time highs will be around 30-32 degrees celsius (upper 80's in fahrenheit). It's a dry heat at this time of year, and it is actually quite pleasant most days. Here's what we recommend:
A light sweater or jacket for the mornings
Short sleeved, cotton shirts
2 pairs of shorts
2 pairs of pants (for riding or going out in the evening)
bathing suit
hat
Sun dress or two for the ladies (you can also buy locally made dresses while on the trip)
closed toe shoes (required for riding the scooters)
flip flops or sandals
sunglasses
Do not go overboard with clothes. Everything you bring needs to be carried on the bike (we will supply our version of saddlebags for this). Also, we will be able to do laundry during the trip on several occasions.
Toiletries and Medication
You don't need to bring an entire medicine cabinet with you. We will have fully equipped first aid kits along with various medications. That said, while we will regularly come across pharmacies stocked with the essentials, certain medications may not be available, and it may be difficult to find particular brand names. If you have any current prescriptions, it's best to bring a supply with you before you leave home.
In addition, as we said on the Health and Safety page, you should be stocked with a malaria prophylactic and your favorite medication to calm your stomach. An anti-histamine is also important if you have any particular allergies.
As far as toiletries go:
insect repellant – we will supply mosquito nets, but you need to bring your own repellant. We recommend something with DEET like this
soap and shampoo – possible to buy on the trip, but if you have to have a certain product, it's better to bring it with you.
hand sanitizer – can always come in handy 😉
tampons – ladies, you might only be able to find sanitary pads on this trip.
Miscellaneous
power adapter – possible to buy on the trip, but easier if you bring one. In most countries, the sockets are European style with two rounded prongs. In the Gambia, however, it is the UK style socket with 3 rectangular prongs. The voltage everywhere will be 220V, so make sure that any device you bring is compatible or bring a converter.
phone – if you bring a phone, it is best to bring one that is unlocked. That way you can buy a local sim card (they cost almost nothing) instead of paying for roaming charges.
camera – there will be plenty to photograph, but keep in mind that an excessive amount of camera gear will be difficult to carry.
helmet – must be DOT or ECE 22.05 certified. We can make recommendations.
driver's license 
international vaccination certificate – showing that you have been vaccinated against yellow fever. More on this on the Health and Safety page.
headlamp/flashlight – your phone could also serve this purpose
What you don't need to bring
This is not the trip to bring 3 rolling suitcases, a duffel bag, and two hand bags. The idea is to pack light and only bring the essentials.
water filters/purifiers – we will make sure you have access to treated or bottled water every day.
laptop – will be more of a burden than anything, and you don't want to risk losing it or having it damaged.
mosquito nets – we got this covered
too much of anything – we will be traveling in West Africa and we will be off the beaten track at certain points, but we are not heading to the ends of the earth. If you forget something or find you don't have enough of something, you can always buy more on the trip.
Of course, feel free to ask us any specific questions about items to bring or not to bring once you make your booking inquiry. We will help guide you through the trip planning process.