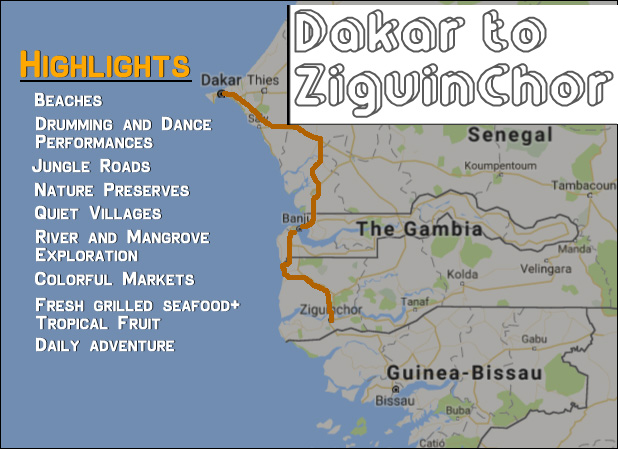 Available Dates
We currently have space available on the following 8 day drips: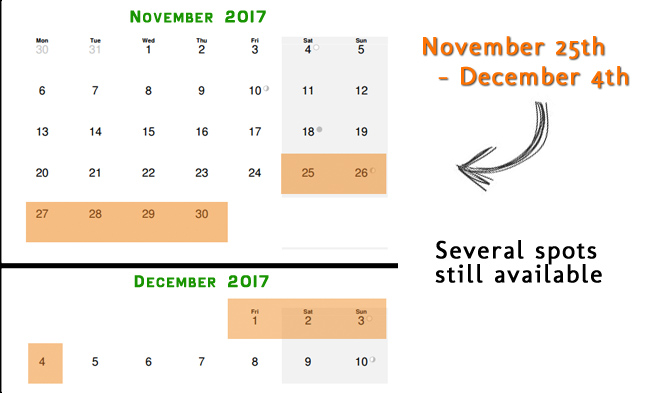 This trip begins on November 26th, but you need to be in Dakar by the evening of November 25th. We will arrive back in Dakar on the morning of December 4th.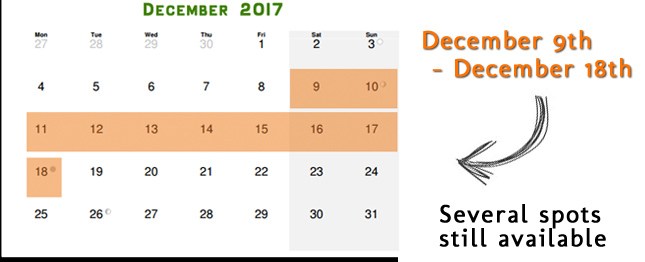 This trip begins on December 10th, but you need to be in Dakar by the evening of December 9th. We will arrive back in Dakar on the morning of December 18th.
Itinerary
Arrival in Dakar
You need to arrive in Dakar (easy to do as it has an international airport served by multiple airlines) on the Saturday before the trip. While the trip does not begin until the following day, we will have a pre-departure orientation that evening. Accommodation is up to you, and it is not covered in the trip expenses. We can make recommendations depending on your budget.
Day 1 – Drive to Fatick
Transport will be provided to the town of Fatick. Once in Fatick, we will get oriented with the bikes. Fatick is a small town, and there is little in the way of traffic. It's a great place to get comfortable on the bikes.
Once everyone has gotten the hang of things, we will drive to our first bush camp of the trip. On the way, we will drive through salt flats and patches of forest teeming with birds (West Africa, and Senegal specifically, is one of the most bio-diverse regions in the world for bird life). After an evening barbecue, we will camp under the stars.
Day 2 – Crossing into the Gambia
After breakfast, we will ride to the Gambian border. We will check out of Senegal and then get our Gambian visas before continuing on to Barra, where we will cross the Gambia River on a ferry, an experience in itself. Once in Banjul, we will head to Serrekunda where we will stay at a hotel for two nights (this is included in the trip cost).
Day 3 – Exploring the Gambia
This day is yours to do whatever you would like in and around Banjul and Serrekunda. We can organize a boat trip up the river Gambia, you can cruise the Senegambia strip, or head straight for the beach.
Day 4 – Entering Casamance
The day will begin with an easy morning ride to the Gambia/Senegal border followed by a river crossing into Casamance. Afterwards, we will ride on sand track through the jungle before arriving in the village of Abené, where we will stay at the Little Baobab eco-lodge for two nights.
Once we have arrived at the Little Baobab, the rest of the day is yours to explore. We can organize drumming and/or dance classes, river and mangrove tours and even cooking classes if you would like. You can also simply enjoy a cold beer on the beach. In the evening, there will be live music and dancing at the Little Baobab.
Day 5 – Discovering Abené and Casamance
Another day to explore relaxed Abené and the surrounding area. Once again, we can organize excursions and classes, and we can guide you to some particularly interesting sights, such as the enormous and sacred Bantam Wora tree: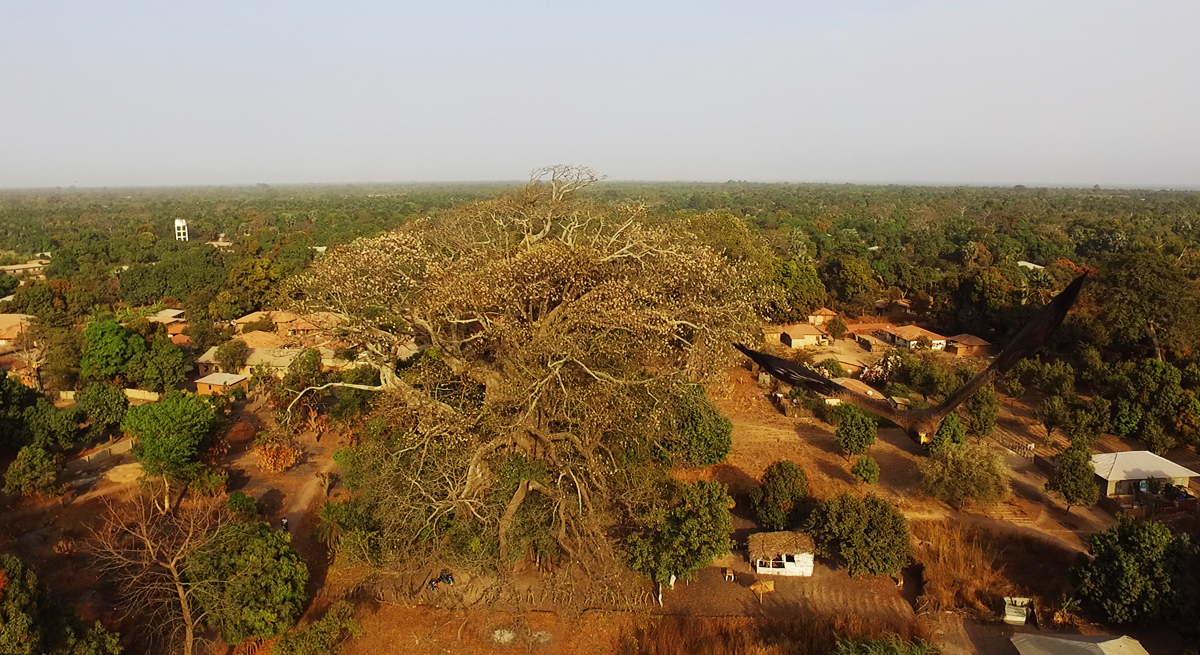 Doesn't look that big? Have a look at Phil in the roots of the tree: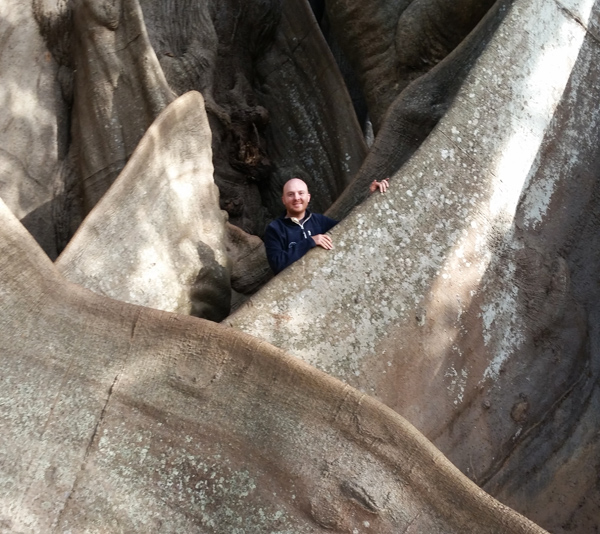 We can also guide you to local shops, bars and restaurants. Casamance, and Abené in particular, has distinguished craftsmen and women who produce locally made clothing and pieces of art.
Day 6 – Heading down the coast of Casamance 
We will leave Abené and head down the beautiful coast of the Casamance, cruising through jungle paths and mangroves. This final bit of adventure will also involve a river crossing or two. We will arrive in Djembering, where the beach mingles with palm and mammoth Fromager trees. We will have a bush camp on the beach here, enjoying an evening barbecue of fresh fish and palm wine.
Day 7 – Ziguinchor
We will arrive in Ziguinchor, the capital of the Casamance, in the late afternoon. We will first head to Hotel Le Perroquet, where will enjoy a cold beverage on the sandy patio that overlooks the Casamance River. Afterwards, we will take a trip up the river, searching for dolphins, flamingos, and other bird life. Afterwards, the evening is yours to explore Ziguinchor or to relax at the hotel.
Day 8 – Back to Dakar
We will have a relaxing morning in Ziguinchor, eating breakfast on the terrace of the Perroquet while watching fishermen return with their nightly catch. Afterwards, you will have a few hours to stroll around town before we board the overnight ferry that will take us back to Dakar. We will arrive in Dakar the following morning, at which point the trip will be over, but you are welcome to join us for one final drink on the beach.
What to Expect
Riding – this trip has a difficulty of easy to moderate. Most of the roads are in good shape, and we will not be sharing the road with any rush hour traffic. In fact, most of the time, we will be sharing the road with cows, kids walking home from school and donkey carts. We will have one difficult stretch of sand track after crossing into the Casamance, but we will take it slow, and it's only a few kilometers.
Language – We will be spending time in French and English speaking countries. Don't speak French? Don't worry. Many people speak at least a bit of English, and even if you do get stuck, a trip leader will always be close by. You will also have a chance to learn some local languages, such as Wolof and Diola.
Weather – This is a drier, cooler period for most of West Africa. There will be plenty of sun, though, and some days will be quite warm. Please have a look at the What to Pack page for more on this.
Lodging – This trip will have a mix of bush camps, eco-lodges and hotels. At the eco-lodge, there will be bucket showers and composting toilets. The bush camps will not have any facilities (we will not be bush camping for consecutive nights). The hotels will have regular toilets, showers, fans and air-conditioning. While the first night in Dakar is not included in the trip price, all other accommodation is included.
Food – Food will vary based on our location. At the bush camps, we will be cooking together and having barbecues. When we are staying in Serrekunda and Ziguinchor, you will have the option of eating at the hotel or going out on your own. At the eco-lodge, delicious home cooked meals will be provided by Khady, who runs the lodge, but you are also welcome to try the little restaurants and cafes around Abené. Breakfast, lunch and dinner will be provided daily, but if you want to go out and eat on your own, it will be at your expense.
For more on what to expect, head over to the following pages: Health and Safety, What to Pack and Frequently Asked Questions.
Payment and Booking Info