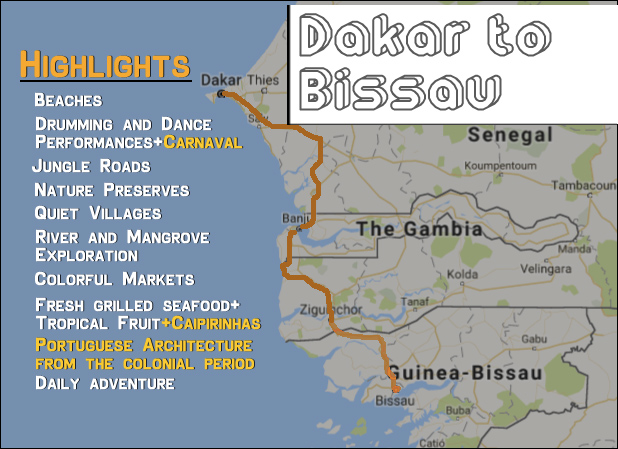 Coming soon…
Available dates
Itinerary
What to expect
Price and payment information
Itinerary
Arrival in Dakar
One way or another, you need to arrive in Dakar (easy to do as it has an international airport served by multiple airlines) on the Saturday before the trip. While the trip does not begin until the following day, we will have a pre-departure orientation at Charly Bar (Hotel Sunogal) in Ngor, Dakar (click here to see it on the map). Accommodation is up to you, and it is not covered in the trip expenses, but we can make a few recommendations depending on your budget:
Day 1 – Drive to Fatick
Transport will be provided to the town of Fatick. Once in Fatick, we will get oriented with the bikes. Fatick is a small town, and there is little in the way of traffic. It's a great place to get comfortable on the bikes.
Once everyone has gotten the hang of things, we will drive to our first bush camp of the trip. On the way, we will drive through salt flats and patches of forest teeming with birds (West Africa, and Senegal specifically, is one of the most bio-diverse regions in the world for bird life).
For our first bush camp,
Day 2 – Drive to Serrekunda