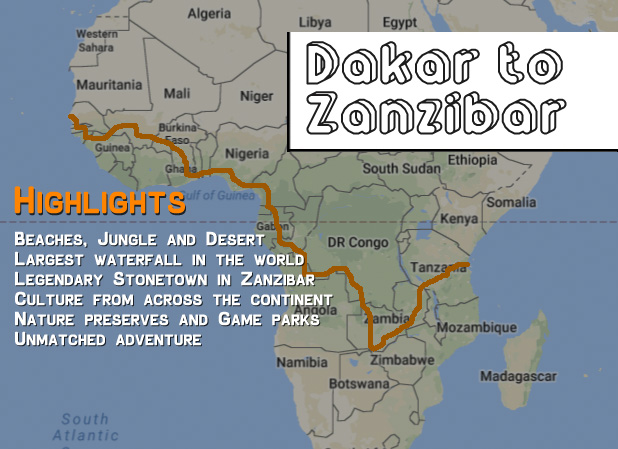 Available Dates
This trip will depart on the 6th of May 2018 from Dakar. We will meet up on the morning of the 5th of May and we can spend the day doing a pre departure briefing and preparing the bikes. Then maybe a few cold drinks in the afternoon watching the sunset over the Atlantic.
Itinerary
We will not have a set itinerary. We plan to pass through 22 countries. (Senegal, The Gambia, Guinea Bissau, Guinea, Mali, Burkina Faso, Ghana, Togo, Benin, Nigeria, Cameroon, Gabon, Republic of Congo, DRC, Angola, Namibia, Botswana, Zimbabwe, Zambia and Malawi before finishing in Tanzania)
We will have a short break in Mali, Ghana, Cameroon, Congo and Victoria Falls to relax, source visas and service the bikes. On riding days we will mostly plan to leave early and have a solid morning ride. Followed by a mid day siesta and then another ride in the afternoon. But nothing is set in stone. We really want to promote input from each of the expedition members but the final say will always lay in the hands of the expedition leader. As a company, the primary concern is achieving our goal of crossing the continent. On a personal level, the safety of the team will never be compromised.
What to Expect
This is not an expedition for the faint hearted. You dont need to be some hard core motorcylist but you need to be resiliant and to be able to think on your feet. And the toughest one of all, you need to be able to be independent, but when necesary, you need to be able to follow instructions. It is at times going to be very tough, but it is most definitley achievable. You are going to have both your stamina and your patience continually tested but the rewards are going to far outweigh the testing times.
At the end of the day, if it was easy, every one would have ridden a scooter from one side of the African Continent to the other. 14 weeks after we set off from the most westerly point on the African continent, we will be sitting on the veranda of the Africa House on Zanzibar, staring at the sun setting in the diection of where our expedition started. The tough times will now just be stories to regale our friends and family with for a lifetime.
Riding – To go on this trip, you must have a driver's license that permits you to ride at least a 110 cc motorbike, and you need to have a DOT or ECE 22.05 certified helmet (more on this on the Health and Safety page).
Language – English, French and Portuguse
Weather – Weather will vary significantly due to the amount of ground we will be covering. A comprehensive packing guide will be provided before booking the trip.
Lodging – bush camping, campsites, hotels in selected cities (upgrades from camping to a room will be available in certain places but this will be at the clients expense)
Food – we will shop in local markets and prepare our own food on route. A daily allowance will also be available in local currency. This will enable people to purchase fuel and lunch on route.
Schedule and Logistics – if you are expecting a by-the-minute schedule that will be respected to the letter, this is not the trip for you. Africa is a great place for honing your patience and learning how to improvise. It's important to keep an open mind and be ready for anything. If you have the right attitude, you will learn to love the different challenges that may arise.
Payment and Booking Info
Coast to Coast 14 week Trip Cost
The trip cost is €7000 with an additional local payment of €2000.
The trip cost needs to be paid in advance of the trip either by bank transfer or PayPal. Upon booking, we will ask for a €500 deposit in order to secure your spot on the trip.
The trip cost and local payment include:
All accommodation except for the first night in Dakar
All fuel costs and any other transport we may use
Breakfast, lunch and dinner every day (if you want to eat outside of the provided group meal, it is at your expense)
Head over to the booking page if you would like to make an inquiry to join this trip.